Colon cancer can take you from some of the greatest moments of your life, but it doesn't have to. Screening is critical in preventing and detecting a number of treatable diseases like colon cancer. Ask your doctor when you should begin screening.
---
Cancer didn't stop because COVID-19 started.
Colon cancer screening can save your life. Take control of your health—know your own risk and get checked now. Use these resources for screening options and information about COVID-19 and colonoscopies.
If you are currently experiencing symptoms, such as rectal bleeding, abdominal discomfort, or a change in bowel habits, contact your primary care physician or gastroenterologist (GI doctor) today.
Colon cancer is one of the most detectable and treatable forms of cancer, and regular colon cancer screening tests can be very effective in reducing your risk.
When Should You Be Screened?
If you are age 45 or older, you should undergo recommended screening for colon cancer until you turn 75 according to the CDC. The vast majority of new cases of colon cancer (about 90%) occur in people who are 50 or older.7
Millions of people in the United States are not getting screened as recommended. They are missing the chance to prevent colon cancer or find it early, when treatment often leads to a cure. If your doctor recommends screening for colon cancer, it does not necessarily mean that you have colon cancer.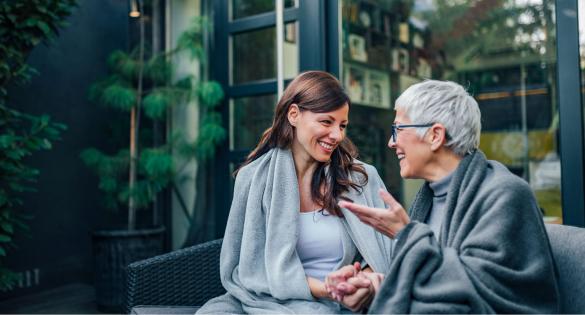 What's your risk?
?
Are you 45 years of age or older?
?
Have you had colon polyps or colon cancer in the past?
?
Do you have close family members with a history of colon polyps or colon cancer?
?
Do you have inflammatory bowel disease, Crohn's disease, or ulcerative colitis?
?
Do you have a genetic condition that increases your chance of colon cancer, such as familial adenomatous polyposis and hereditary nonpolyposis colon cancer (Lynch syndrome)?
If you answer 'yes' to one or more of the above questions, early screening may be recommended by your doctor. If you think you may be at increased risk for colon cancer, learn your family health history and ask your doctor if you should begin screening before age 45.
Common Screening Myths
Only men get colon cancer.
Colorectal cancer is just as common in women as it is in men; it is not more prevalent in men.
Approximately 140,000 Americans—men and women—are diagnosed with colorectal cancer every year, and over 50,000 die from it.
I don't have a family history, so I'm not at risk.
Although your risk may be higher if you have a family history of colorectal cancer, most people with colorectal cancer have no family history of the disease.
The most common factor in developing colorectal cancer is simply getting older. Your risks increase at about age 50 and continue to increase as you get older. This is why it is important to undergo recommended screenings from age 45 onward.
There is no way to prevent colon cancer.
Colorectal cancer is preventable in many cases.
Regular screenings can detect small growths called polyps, which can eventually cause colorectal cancer. If the polyp is detected early on, it can be removed before colorectal cancer develops.
You can also make lifestyle changes to lower your risk. Maintaining a healthy weight, staying physically active, limiting alcohol intake, and avoiding tobacco use can lower your risk of colorectal cancer. A healthy diet can also help. Try to eat at least a minimum of 2 ½ cups of fruits and vegetables daily, have whole grains instead of refined grain products, and limit red meat and processed meats.
I don't have any symptoms, so I have nothing to worry about.
People with polyps rarely have symptoms, and many people who are diagnosed with colorectal cancer also do not have symptoms.
If you don't get tested until you have symptoms, you miss the opportunity to prevent colon cancer or detect it before it grows and spreads.